HVAC systems are extremely complicated pieces of equipment, requiring very specific knowledge to be able to diagnose any problems they might be experiencing, let alone implementing the needed repairs. Systems like these demand the attention of skilled professionals, specifically trained in the intricacies of the wide variety of HVAC units. That's exactly who we are, and why we believe no one else can compare.
How Do You Know When Your System Needs Repair?
You don't have to wait until your HVAC system completely breaks down to get it repaired, there are warning signs you can check for. Finding these signs early can help save a lot of money and headache later on, and possibly even your life.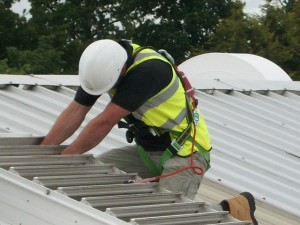 Here are some things you can look for:
Higher utility bill (Sign that your system is not running at maximum efficiency)
Takes longer for your furnace or air conditioner to reach desired temperature
Uneven temperature throughout your home or office
Unusual noises coming from your equipment
Strange odors coming from your furnace (very dangerous, this could be poisonous gas)
If you notice any of the above or anything else out of the ordinary give us a call right away at 720-600-7247. Someone will be standing by and happy to assist you.
At Heatwave Denver we're 100% licensed and insured which means you can have peace of mind when choosing us for all of your HVAC repair needs. We always treat your home as just that, your home, and never think of it as our workplace. Shoe covers are worn on every visit to ensure we leave as little trace of our presence as possible.
Almost all of our parts and labor are guaranteed for one full year so that's another thing you don't have to bother worrying about. If you have to call us back about work we've already completed, it will be done at no extra charge. Don't put it off any longer, stay cozy by calling us right now at 720-600-7247.
HVAC Repair: Heatwave Denver Has You Covered